School Meals
At John Donne School, we are proud to have an in-house catering team. Our catering team is lead by Mr Simpson, who is a qualified chef with over 20 years experience in the catering industry.
Our menu offers varied and flexible food choices for our children. All of the meals meet nutritional standards set out by the government. Fresh fruit, salad, bread and drinking water are always available.
Please click on the attachment below to see the weekly menu. For further information, please contact the school office.
FREE school meals
Southwark offers children in Nursery as well as Years 3, 4, 5 and 6 a free school meal as part of their Healthy Free School Meals scheme. The Government offer Reception to Year 2 pupils a free school meal as part of their Universal Free School Meals programme. Both programmes are designed to help tackle obesity and deprivation in the borough and nationally, as well as to ensure children are fed well at school, do better in their lessons and have improved general health and wellbeing.
All Parents and Carers, will be asked to complete a form for a Free School Meal regardless of their child's meal option.
For more infomation about Southwark's free healthy school meals click here.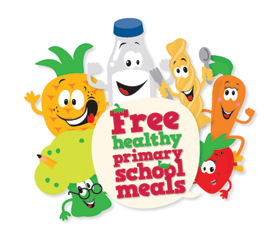 Healthy packed lunch ideas
Lunch boxes don't need to contain just a sandwich and a packet of crisps. Ensuring the meal contains fruit and/or vegetables, a good helping of starchy carbohydrates and some dairy products will result in a nutritionally balanced lunch.
Healthy options
Avoid boredom setting in with some alternatives to sandwiches.
Try soup - a flask of warm vegetable soup can provide a portion of your five-a-day and boost fibre intake. Homemade versions can be tailored to personal taste, but shop-bought ones are fine, too (check the label to avoid those with a high salt content).
Rice, noodles, lentils, couscous, bulghur wheat and pasta can form the basis of salads, accompanied by chopped vegetables, and fruit to boost vitamin and mineral intake. You can also add protein such as chicken, tuna, prawns and soya.
Use different varieties of bread throughout the week, such as wholemeal, granary, oat-topped, seed-based, ciabatta, rye, bagels, wraps, pitta, baguettes and rolls. Choose wholemeal varieties for maximum nutrients (such as fibre, B vitamins, vitamin E and magnesium).
We are a NUT FREE school.
Accompaniments
Fill out your lunchbox with the following:
Fruit – include fruit such as apples, grapes, plums and berries. Chopped fruit, fruit salad or dried fruit such as apricots, raisins and dates can be easily handled and eaten by children. A fruit smoothie is also a healthy option.
Vegetables - chopped vegetables such as carrot, celery and cucumber can be included with dips such as hummus to provide a nutritious snack. Cherry tomatoes, sliced peppers, baby corn and sugar snap peas are great for adding colour and are easy for young children to eat.
Desserts - fruit can be added to low-sugar jelly, or mixed in with natural yoghurt for a tasty dessert. Yoghurt drinks or small pots of custard or rice pudding can top up calcium intake and provide an alternative to more sugary or fatty options. If you like cakes and biscuits, try varieties such as hot-cross buns, scones and malt loaf. Adding a treat every now and then is fine - try fun-size chocolate bars, snack-sized packets of biscuits and sweets to keep portions small and the calorie, fat and sugar content low.
Drinks - use tap water, or mix it with low-sugar squash or some fruit juice to add flavour. Unsweetened fruit juice and smoothies count towards one of your five a day, but avoid too many sugary drinks which can add lots of extra calories. Milk-based drinks, without added sugar, are a healthier option for teeth than sugary alternatives.